Turning a ballpark into a cinema
Transforming a portion of the almost 40,000-seat ballpark into an intimate movie theatre setting is a complicated, multifaceted process. BL&S needed a presentation screen that would withstand the elements and highly unpredictable weather in Boston. They also needed to ensure high quality audio in a notoriously difficult environment.
Keep off the grass: Preparing under pressure
The BL&S team had an extremely tight window of time to install, tune, and test the digital cinema equipment. Between the city's noise ordinances and concurrent events being hosted at Fenway Park up until the evening of the screening, there were few opportunities to validate the audio system performance prior to the event. Moreover, the team faced an unusual quandary in bringing heavy projection and audio equipment in for the event: they weren't allowed to touch the grass.
Specialty audio equipment installation
BL&S conducted several pre-site visits to determine the structural load, and the logistics involved with moving equipment in and out of the park according to the organization's guidelines. BL&S then set out to find the right equipment for the venue. They partnered with Gulf Coast Sound, who helped engineer the Dolby 5.1 sound system designed to cover 2,000 seats of the park.
Outdoor film presentation
To present the film in this outdoor setting, BL&S installed a 22x50-foot screen over the visitor's dugout facing the ballpark seats. They designed the screen structure with special dark-colored material that promotes air flow so it wouldn't blow over in high wind, and created the optimum film presentation environment by blocking out extraneous light and the surrounding buildings from view.
A unique cinematic experience
The team's creativity and diligence paid off. 2,000 lucky people walked into Fenway Park that beautiful September night to a real treat. The movie looked and sounded extraordinary. BL&S produced crisp audio and images of the action-packed film, becoming the first known company to present a film premiere at the historic park. "One scene where a minivan was blown up sounded so real it practically shook the park," says a Boston Light & Sound production staff member.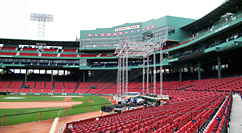 Doing the impossible
"We actually like going into places where people think you can't do a good job showing a movie, and Fenway Park was one of those."